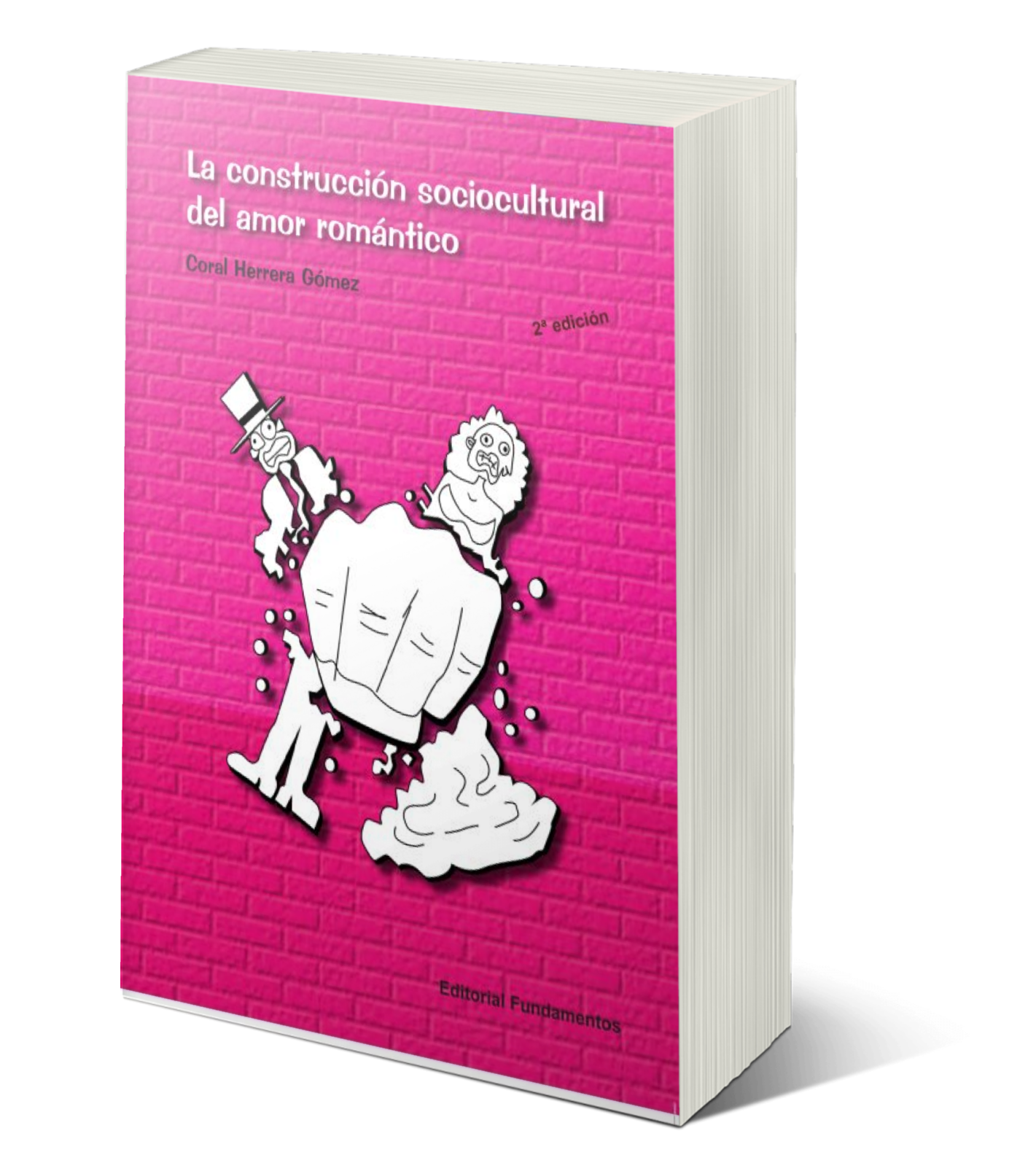 Herrera Gómez, Coral: "The Sociocultural Construction of Romantic Love", Editorial Fundamentos, Madrid, 2011.
Always understood as a biological reproductive phenomenon and overlooked by scientific discourse, very few scholars have given romantic passion the attention it deserves. This title, the result of doctoral research, analyzes the phenomenon of love in all its complexity, with a particular focus on its sociocultural construction from a queer perspective.
The central thesis of this work is that emotions are constructed in society through culture, and therefore we learn to feel through narratives and myths. The emotional patterns we learn in childhood and adolescence through movies, stories, novels, and songs have not been subject, until recently, to rigorous academic investigation, yet they determine our identity, our daily life, and our forms of social and economic organization.
Through a process of criticism and deconstruction, the author unveils the mythification of patriarchal romanticism, highlighting the emotional utopias of postmodernity, and deconstructing binary thinking and concepts of the "normal" or "natural," which vary according to cultures and historical periods, just as the culture of love varies in every corner of the planet. The book focuses on the analysis of Western romantic love, and offers a critique of the social and cultural conditioning that impoverishes and limits our sexuality and networks of affection.
Coral Herrera Gómez (Madrid, 1977) holds a PhD in Humanities and Audiovisual Communication. She is an educator, researcher, gender and communication consultant, blogger, and writer. Her doctoral thesis explored the topic of romantic love from a multidisciplinary perspective that incorporates feminism and masculinity studies. Since then, her professional trajectory has been linked to reflection on the construction of reality through media and cultural industries. She has also delved into the legitimizing relationship between our emotional and cultural structures and our sociopolitical and economic organization. On her blog, she deconstructs the myths of monogamous heterosexuality that perpetuate inequalities and mutual dependence, always using a language of humor and activism. Her ultimate proposal is to expand love to communities in order to dismantle patriarchy, individualism, hierarchies, and inequalities.
TABLE OF CONTENTS
INTRODUCTION
I. THE SOCIOCULTURAL CONSTRUCTION OF LOVE
1.1. HOW DO WE CONSTRUCT REALITY?
1.1.1. WHAT IS REALITY?
OTHER REALITIES
IDEOLOGIES
1.1.2. THE SOCIOCULTURAL CONSTRUCTION OF IDENTITY AND GENDER
GENDERED IDENTITY
MASCULINITY
FEMININITY
1.2. WHAT IS LOVE?
1.2.1. INFATUATION AND FALLING OUT OF LOVE.
INFATUATION
FALLING OUT OF LOVE
LOVE SICKNESS: THE PATHOLOGIES OF LOVE
1.2.2 BIOLOGICAL FOUNDATIONS OF LOVE
REASON VERSUS EMOTION.
1.2.3. THE SOCIAL AND ECONOMIC DIMENSION OF LOVE
1.2.4. THE INSTITUTIONALIZATION OF GENDER RELATIONS
MARRIAGE
DIVORCE
1.3. HUMAN SEXUALITY.
1.3.1. FEMALE SEXUALITY
1.3.2. THE ECONOMIC DIMENSION OF SEXUALITY
1.3.3. THE MYTH OF MONOGAMY
1.3.4. THE MYTH OF HETEROSEXUALITY
HETERO, HOMO, BISEXUALITY, AND QUEER
THE SEXUAL REVOLUTION AND THE CRISIS OF PATRIARCHY
1.3.5. ALTERNATIVE SEXUAL AND AMOROUS IDEOLOGIES
SEXUAL FREEDOM AND LICENTIOUSNESS
FREE LOVE
THE SWINGER MOVEMENT
BDSM
1.4. LOVE AND POWER BETWEEN GENDERS.
1.4.1. DO MEN AND WOMEN LOVE EQUALLY?
1.4.2. PATRIARCHAL POWER IN LOVE
MALE POWER
FEMALE POWER
PATRIARCHAL ROMANTICISM
II. THE CULTURAL CONSTRUCTION OF LOVE
2.1. THE CULTURAL CONSTRUCTION OF REALITY AND LOVE
2.1.1. THE SYMBOLIC CONSTRUCTION OF REALITY
2.1.2. THE SYMBOLIC CONSTRUCTION OF LOVE
2.1.3. AMOROUS IDEOLOGIES
HEGEMONIC LOVE AND ALTERNATIVE LOVES
THE LEGITIMATING THEORIES OF HEGEMONIC LOVE IN THE WEST
2.1.4. THE RELIGIOUS DIMENSION OF LOVE.
2.1.5. THE MYTHIC AND RITUAL DIMENSION OF LOVE
AMOROUS MYTHS
AMOROUS RITUALS
THE WEDDING RITUAL
2.2. PASSIONATE LOVE IN HUMAN NARRATIVES
PASSIONATE LOVE IN ANCIENT GREECE
COURTLY LOVE
PASSIONATE LOVE OF THE 18TH CENTURY
ROMANTIC LOVE
FEMININE ROMANTICISM
III. LOVE AS THE EMOTIONAL UTOPIA OF POSTMODERNITY
3.1. THE POSTMODERN MASS CULTURE
3.2. POSTMODERN IDENTITY
THE CRISES OF MASCULINITY
THE POSTMODERN WOMAN
3.3. LOVE RELATIONSHIPS IN POSTMODERNITY: LOVE AS EMOTIONAL                  UTOPIA
MYTHIFIED LOVE
THE EMOTIONAL UTOPIA OF POSTMODERNITY
UTOPIAN LOVE ADAPTED TO SOCIAL REALITY
3.4. PROPOSALS FOR THE SOCIOCULTURAL CONSTRUCTION OF LOVE IN
THE 21ST CENTURY