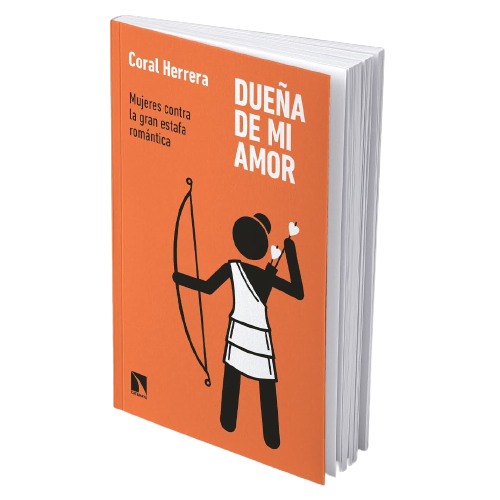 With great excitement, I present my sixth book. You can find it in all bookstores: "Owner of My Love: Women Against the Great Romantic Scam." This book is a collection of short essays in which I expose all those who benefit from women's suffering and the big business built around the Great Romantic Scam that puts all of us on our knees.
How do they do it? How do they manage to make millions of girls, teenagers, and adult women believe that happiness lies in finding their other half and creating a "happy family" with the prince charming? What happens when we realize it's a trap? How does romantic suffering destroy us from within, and who takes advantage of it? How are we going to protect young girls so they don't go naked into the patriarchal war of love?
This book is a feminist call to women's rebellion: we need to disarm Cupid so he no longer subdues us. We must understand who funds Cupid, who benefits from romantic suffering, and how to free ourselves and future generations of women from living on our knees in front of love.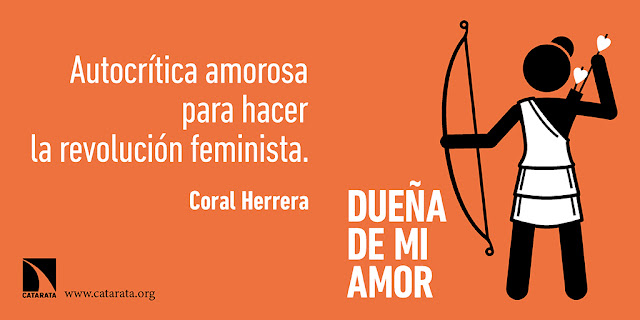 An invitation to take away Cupid's bow and arrows, to dethrone those who want women on their knees, and to free ourselves from the traps of romanticism. After the sexual revolution, the love revolution arrives: women who want to stop suffering for love are working to detach themselves from one of the most powerful drugs in the world, and to prevent more women from becoming love junkies and succumbing to the grand romantic scam. We cannot leave girls and teenagers alone while they are bombarded with princess tales and movies with happy endings.
We must prepare them so they don't go naked into the global war against women, naively believing in the myths that bring us to our knees: the romantic myth, the myth of the happy family, the myth of balance.
Coral Herrera invites us to rise up, to take Cupid's bow and arrows away, to dethrone the kings who want us on our knees, and to free ourselves from the traps of romanticism. In this book, the author exposes all those who benefit from women's suffering and challenges men to join the revolution by engaging in self-criticism, both individually and collectively.
Romance is political: with feminism, we have learned that we are not slaves to love and that we are not at the mercy of gods or destiny. Coral encourages us to take the reins and fight for our autonomy and freedom: we have the right to pleasure and to enjoy love, and we must never forget that we are all the owners of our desires, our feelings, and our dreams.
Youy can find it in Amazon: